There are several wineries in the 209 but there is only one Lumberyard Cellars, located at The Merchant Yard, 1455 First St., Suite 4 in Escalon. Husband and wife team Derick and Megan Webb have a lot to celebrate this summer with the expansion of the Lumberyard's indoor tasting room and the two-year anniversary of the business.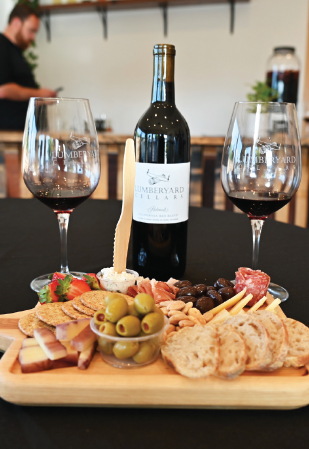 "All the wines that we make are small batch wines," said Megan. "We are a small production winery. A lot of care goes into everything that we make and everything that we do. We try to put out a really good product and a delicious wine that is still affordable. We want to be a welcoming place that people feel comfortable coming down and hanging out and grabbing a glass of wine for the weekend and relaxing."
Derick is the winemaker and has been in the wine industry for several years. He earned his Bachelor's Degree in Enology from Fresno State and spent a semester in Southern Italy where he interned at a winery. All the wines offered at Lumberyard Cellars are their very own creations with grapes purchased from different growers in the area.
"There is always a lot of experimenting going on because you are always trying to improve or make the best wine you can," stated Derick. "There are different techniques to do different things. It is a fun business. I like to focus on the main staples but I also like to offer different things and unique things that other people don't have like the Aglianico."
The Lumberyard Cellars 2019 California Aglianico is a red Italian variety that Derick noted most wineries do not have and is a "medium to full body wine that has some great fruit, nice structure, and some interesting earthy notes to it." This is a very tasty varietal that is definitely one to try.
Guests can partake in wine by the glass or the bottle. They make an in-house Sangria with seasonal fresh fruit. For those that may not like wine they offer a few beers including Last Call Brewing Co.
Golden State Cider, and California Seltzer Co. They also have a mock cocktail for those that may want something tasty but without alcohol. The tasting room is open to anyone 21 and older.
For some small bites to enjoy with your libations, the Lumberyard has a Charcuterie Board, and Baked Brie in two different flavors along with crackers and a sliced homemade sourdough baguette. They try to use local products as much as possible like cheeses from Stuyt Dairy Farmstead Cheese in Escalon and Fiscalini cheese in Modesto.
They offer five wines on their tasting menu, two whites, a Rosé, and two reds. Some of the top sellers in their lineup are the 2021 Lake County Sauvignon Blanc and the 2020 Redwood Blend.
The Sauvignon Blanc is one of their most popular wines that is made with grapes grown in Lake County. 
"I fell in love with it (Sauvignon Blanc)," expressed Derick. "That area does some fabulous Sauvignon Blanc. A college friend of mine, his mom has a vineyard up there so I have been sourcing grapes from there since we opened. People just love it."
Megan added, "I think right now Sauvignon Blanc is really popular everywhere. They started calling it Sauvi B and it makes me chuckle."
The 2020 Redwood Blend is another customer favorite that is made with a blend of four varietals, Sonoma Merlot, Lodi Cabernet Sauvignon, Lodi Zinfandel, and Contra Costa Carignane. This tasty red blend with varietals from different regions is delightful on the palate that is fruit forward and rolls off the tongue nicely.
The 2021 California Rosé that is made with grapes from a 70-year-old vineyard in Manteca is light and refreshing.
Derick noted, "This (Rosé) is one of our most local wines. It is kind of unique. It is all handpicked. This vintage is unique because it is barrel aged so it gives you some interesting characteristics like smoky, chocolatey, but still some nice strawberry, cherry, very light crisp."
The duo can be found at the tasting room on the weekends which makes their place a bit unique as the winemaker is on hand to talk about the product he created with their guests. They plan to release some new wines in the near future as Derick expressed that he likes to "expose people to new things and get them out of their comfort zone." 
Every second Saturday of each month they host events with live music and a food truck so mark your calendars for June 10 and July 8. The Lumberyard opened their doors on July 31, 2021 and they will be celebrating their two-year anniversary on Saturday, July 29 with a big celebration. 
They have a Wine Club where members receive quarterly shipments of whites only, reds only, or mixed. Each shipment will include three bottles of wine at a 20 percent discount. Some of the perks of being a wine club member at the Lumberyard are 20 percent off all wine purchases, complimentary tastings for up to four guests, and invitations to exclusive wine club member only events.
Megan is an Escalon native and when they were thinking about opening a wine tasting room, she knew it had to be in Escalon. So why is the winery called Lumberyard, you ask?
"This was a lumberyard in Escalon for over 100 years," remarked Megan. "We just kind of wanted to give a nod to that and keep the history alive and keep the name alive that has been here for so long. We thought that was cool."
The small family business has a staff of about seven and is only open on the weekends. They are open from 3 p.m. to 9 p.m. Fridays; noon to 9 p.m. Saturdays; and noon to 5 p.m. Sundays.
They have a warm and inviting indoor tasting room and outside patio that is great for a summertime hangout with a staff that is friendly and passionate about their wines.
"We are really trying to put out a great product at an affordable price," shared Megan. "You don't have to know about wine to come here. We want everybody to feel welcomed here. Wine tasting is a great place to make friends. We have a lot of good Escalon support but we have people from all over that come here; Oakdale, Riverbank, and Modesto. We have a wine club member from the Bay Area. We love this spot. The weekends are fun."
For more information on the Lumberyard Cellars visit them at lumberyardcellars.com or on Instagram and Facebook.
IF YOU GO
1455 First Street, Suite 4, Escalon, CA
HOURS: 3 p.m. to 9 p.m. Fridays
noon to 9 p.m. Saturdays
noon to 5 p.m. Sundays
CONTACT: 209-857-6181 
lumberyardcellars.com