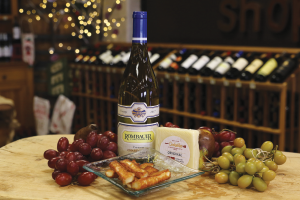 Hilmar Cheese Company's research and development team has created a delicious new cheese, Artisan Cookables. The Mediterranean-style cheese can be grilled and deep-fried. It doesn't melt and naturally develops a golden brown coating. Hilmar's Artisan Cookables can be cut into sticks to deep fry, it's a replacement for a Mozzarella stick with no breading needed. It can also be sliced to grill on a barbeque. For dessert, cube and pan fry it, then roll in cinnamon sugar and it tastes better than a churro. Artisan Cookables, however, is not a table cheese and needs to be cooked. The wine to pair with Artisan Cookables would vary depending on how it is served. As a hot, pan-fried appetizer like cheese sticks, Rombauer Chardonnay, Carneros wine pairs nicely to enhance the flavors in both. 
Where can you find local Hilmar Cheese Company labeled cheese? Hilmar Cheese Company is a wholesale processor and only places private Hilmar Cheese Company labels on cheese for sale in the company's Visitor Center. You can only purchase this cheese in the Visitor Center or online. The Visitor Center also carries an extensive selection of California farmstead cheeses and international cheeses along with a broad selection of wines sure to compliment your cheese selection. Visit www.hilmarcheese.com to learn more. 

Hilmar Cheese Company's Colby Jack pairs well with many wines. For a special holiday wine bottle that says it all, Jeremy Wine Company's "Joy" is a spectacular blend of Merlot and Petite Sirah. "Joy" is local Lodi wine, developed by boutique winery owners Jeremy and Choral Trettevik. 
Hilmar Cheese Company's Vintage Sharp Cheddar pairs well with Alicante Bouschet from local Silkwood Wines in Modesto. A cross between Grenache and Petite Alicante, it is smooth on the palate. Owner John and Judie Monnich are proud that Silkwood Wines is the most awarded winery in the Central Valley. The Alicante Boushet compliments Hilmar's sharp and full-bodied Vintage Cheddar.