Spring is in the air and right around the corner are hot summer days in the 209. With pleasant weather on the horizon, it is a good time for everyone to think about taking a sabbatical and the place to do that may be a trip to Sabbatical Distillery Bottle Shop and Tasting Bar, 16021 CA-4, Holt on Victoria Island Farms in the California Delta.
Co-founders Jack Zech and Daniel Leonard took a long sabbatical leaving their corporate jobs and diving deep into craft spirits. 209 native Zech is a fourth-generation farmer. His family has been farming on Victoria Island for more than 50 years. Zech and Leonard met in college and had discussed creating something on the island bringing people together and serving as a nexus between the urban and rural areas.
"We also recognize how fortunate we are to be able to do this," added Zech. "Having the farm and the history and years and years of experience that everybody has here working on the farm to give us the advice, the building being here, the support from the local community. We could not have done it without all those different things. We appreciate where we come from on this. We want to make the best product that we can and be as successful as we can."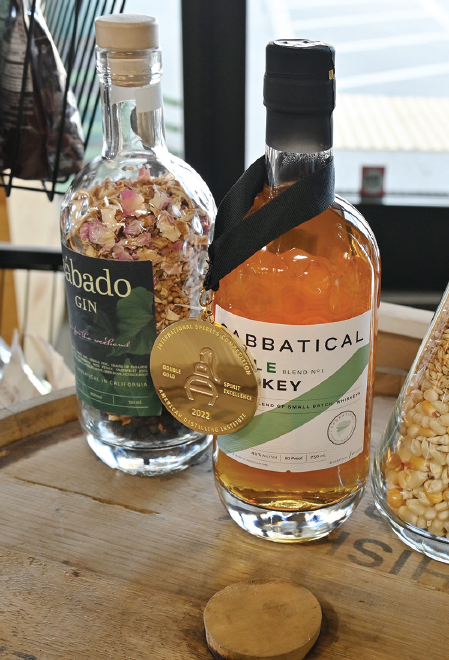 Leonard noted, "A lot of bars and restaurants we are in now is because someone in the community made the connection and they liked it. There is not that many businesses like us and they recognize what we are doing out here."
Zech shared, "We are the first distillery in San Joaquin County since prohibition."
Originally the farm was an asparagus processing facility for many years and then they stopped growing asparagus in 2015. The facility became a storage warehouse and was not in use. Then Sabbatical was born and in 2019 they created their first batch of whiskey. They opened to the public in May of 2021 offering guests a tasting bar of their spirits, bottle shop, tours, and they also host small private events.
The distillery is a large open space filled with American oak, French oak, and different types of wine, brandy, and port barrels. The tasting is free and each spirit is described and detailed to the guests.
On the farm they grow corn, blueberries, botanicals, and making a return this year is California grown asparagus. Commercially they grow almonds, alfalfa, wheat, and tomatoes. They have a farmers' market and a U-Pick Blueberry event on Victoria Island Farms where guests go out and pick their own blueberries that are weighed and purchased in the distillery.
"We get people from all over," expressed Zech about their clientele. "We are off the beaten path and we are really kind of the border between the Valley and the Bay Area. We get a mix of people with different perspectives. So, the whole 209 plus Contra Costa, Livermore, Pleasanton, and Dublin."
They have incorporated using all the farm grown goodness in their recipes for their spirits including the corn, which is the base for the whiskey and vodka along with the blueberries that are fused in both the gin and vodka spirits.
"For craft spirits there was a lot of room for growth," said Leonard. "People don't have that much access to well-made local craft spirits. So, we thought this is a good opportunity. The farm has done so well for generations. They can grow pretty much anything. We can utilize those ingredients and turn them into something different."
They have a sensational line up of award-winning spirits like the Blended Whiskey, Straight Bourbon Whiskey, Sabado Gin, and Cognac Cask Finished Blended Whiskey. The lineup has a variety of smooth and rich flavors like the 92 proof American Single Malt Whiskey that is made from malted barley mashbill, aged over three years in American oak barrels and then finished in a French white oak cask that previously had Cognac; creating a very savory offering that brings joy to the palate.
"We have had success so far," remarked Leonard. "We have been winning quite a few awards and taken a different angle because we didn't come from the industry so we are making things a little bit differently and people are reacting to that."
Although their original focus was solely on whiskeys, they have ventured into gin and vodka while experimenting in their lab.
Whether you like gin or not, Sabado Gin is a must taste with the blend of botanicals along with a citrus and floral scent that is light on the tongue and very flavorful. It can be served up chilled in a martini glass or in a glass on the rocks all by itself; no mixers necessary. It's an award-winning spirit for a reason; having won double gold at the San Francisco Spirits Competition in 2022 and a silver in the Bartender Spirits Awards.
The Blueberry Lemon flavored Vodka is made with ingredients harvested from their farm and made in small batches. This can be served up chilled, on the rocks or mixed.
"We are really proud of what we have done but we are just getting started," expressed Leonard. "We are focused on growing and getting more people to know about us. That is a big thing. We are out on an island so whenever we do have a chance for people to meet our brand then they become big fans of it."
From the first taste of their whiskey creations to gaining more knowledge and experience to expanding into gin and vodka, the guys are proud to bring the 209 community a quality crafted whiskey, gin, and vodka. They enjoy watching people experience their creations during a tasting and now seeing their product in stores, bars, and restaurants.
"It is really fun to see what the bartenders have decided to create with our products," said Leonard. "That is really exciting. The professional bartenders, they think of way more creative ways to prepare it and then you can go and try it. Someone else preparing the product that you made with your hands and it is completely different and it is delicious. It is so fun and pretty cool."
They have expanded their operations since their inception and can be found at retailers, bars and restaurants throughout the 209 including the Armory in Sonora, Oxford Kitchen in Lodi, the Grove House in Mariposa, and the Fox Pub in Modesto. Sabbatical can also be found at liquor stores and grocery stores throughout the 209 and can be found on a map on their website www.drinksabbatical.com. Their products can also be purchased online.
"The opportunity to be able to see where it is made and learn how it is made and then be guided through what we were thinking or what went behind these products and where your ingredients are grown," stated Leonard. "It is a pretty unique opportunity out here. It is an educational and fun experience."
The Bottle Shop and Tasting Bar is open from 12 p.m. to 6 p.m. Wednesday through Sunday. 
Open Year Round

Where: 

16021 CA-4 Holt, CA 95234
Phone:
209-452-9295
Email:
hello@drinksabbatical.com