Everyone knows that when it is time to celebrate it is time to 'Pop the Bubbly!' There is something about popping the cork and hearing the fizz from a bottle that sets the tone for a celebration. Although the mandatory COVID-19 shutdown caused a few complications for David and Mandi Westerback, they were able to open their Champagne Bar in Murphys called Pop the Bubbly where each day they have a reason to celebrate.
They are both a little country chic so the historic Thompson building suited them perfectly with its rustic charm. Popping open a French Chateau de Bligny they toasted and gave each other a kiss and expressed how much their little corner in Murphys has meant to them and how great the community has been.
"Everything that you see is stuff about us, about who we are," Mandi explained. "I was raised very country and he was raised country. He built everything from scratch out of our garage. It is all redwood and local. Local cut raw wood and he made every bit of it."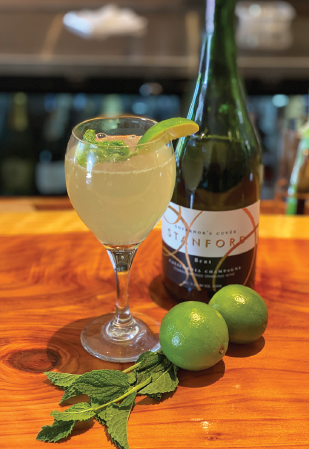 They acquired the space in February and began their transition with the anticipation of upcoming annual events like Murphys Irish Days to help them build their income for their new business. Then COVID-19 hit and everyone had to shut down and events were canceled. 
"When they shut everything down, we literally panicked because we had to take every bit of our savings, everything that we worked hard for and had to throw it all into this and had no money," stated Mandi. "With things shut down we could not get permitting or people out here to work on things. We were constantly communicating with our customers online and I would just let them know with photos and everything how we were doing and we were very honest." 
"Everyone came out of the woodwork calling us, buying bottles, getting food, it was emotional," added David. "It was really neat. Our customers were literally throwing tips bigger than what they were purchasing at us."
Since their hard beginnings they have recovered and were able to open the first week of May despite all their struggles.
Adjusting once again to the seemingly always changing situation they continue to take all safety precautions to ensure their customers are safe by keeping everything sanitized along with spacing tables for the proper social distancing guidelines. They also have an outdoor patio for customers to enjoy while taking in the fresh air.
With the thought in mind to create a place that is different than a bar but more of a relaxing, safe, comfortable, space that couples, mothers, daughters, or friends can enjoy a few hours and hang out is the environment that the Westerbacks have created. Their clientele consists of many locals and people that want a spot to celebrate events like engagements, bridal showers, anniversaries and birthdays. When they had a woman come in with a book, order a glass of champagne and a bite to eat then grab a seat and read, they knew they were creating something special. Then they had a couple of Army doctors that were on leave from Afghanistan sit at the end of the bar with a bottle of champagne playing a game of chess over several hours; they knew they created the place they had envisioned. 
"We love to hang out with everybody and learn everybody's story," said Mandi. "We love to chat. I am at the point in my life where I want to be with my husband, I want to have fun and I want to connect with people. People have stories if you just listen. It is so much fun."
They serve beer, wine and champagne but don't worry if you are looking for a cocktail; they've got you covered. Mandi decided to do some research and found a creative way with help from the family to make custom cocktails out of the bubbly. The importance of the Champagne Cocktails is to make them taste like their inspiration which led to a few fun nights of experimenting for the whole family. 
Some of the customer favorites are the French Mule Mosa which is a bubbly spin on the Moscow Mule without the vodka and tastes just like a mule. The Murphys Sunrise is another crowd pleaser that takes after a tequila sunrise without the tequila and the Mai-Tai Mosa not only tastes like a traditional Mai Tai but has the coloring to prove it, without the rum of course. The Strawberry-Brr-ita is not only pretty but it tastes like a strawberry margarita even though it is made with strawberry sparkling wine, a little margarita mix, and a full squeeze of lime. Just about all their champagne cocktails have a story of creation.
Although their custom champagne cocktails are a hit their specialty is the Champagne flights. The flights are in specific categories that have been tailored by Mandi to have your palate take flight with the different flavors of bubbly. 
"The flights could have something that is really soft, a little bit sweeter, drier, tart or a little bit creamy all in the same flight," she noted. "We designed it that way so that people can start learning what their palate is for champagne. So, we want people to come in and broaden their spectrum and get to know what they really want to get off the shelf."
They offer a small food menu for those that want a bite to eat while they enjoy their libations. For breakfast they have bagels, for lunch they have sandwiches like the Cubano, and an option for dinner could be the BBQ Pulled Pork.
With the fluid situation of the pandemic they are constantly adjusting at Pop the Bubbly with curbside pickup, limited occupancy, the outdoor patio and following all the safety guidelines, but have no plans to close. 
IF YOU GO
POP THE BUBBLY
472 Main Street, Murphys, CA 
CONTACT:
209-269-6566 or visit them at visit them on Instagram pop_thebubbly