For the Girls Who Just Want to Have Fun
Kendra Scott Genuine Stone Beads Tassel Earrings$125
Glitz Fine Clothing
306 E Main St., Turlock
For That Special Elf
Santa's Darling
Outfit includes: Custom high/low ruffle sleeve shirt with red icing leggings
and matching bow.
$29.95
Simply Irresistible Children's Boutique
297 Commerce Ave., Manteca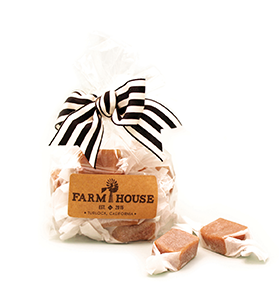 Great stocking stuffer
Claudia's Home Made Salted Caramels50 Cents Each or Cute Bag of 12 for $6
Farm House
311 E Main St., Turlock
For the Family
Hanging Our Stockings Personalized Ornament$19.95
Treasured Ornaments
310 Merced Mall, Merced
For the Discriminating Connoisseur
Halama Cut Glass Vase
Created from the original molds used later to produce Russian ammunition.
$950
German Glas Werks
109 East Yosemite Ave., Manteca
For Farm to Table Lovers
Fiscalini Cheese trio
8oz. each of Traditional Cheddar, Purple Moon, Onion and Chive Cheddar, along with Rustic Bakery Cheese Coins.
$35
Fiscalini
7206 Kiernan Ave., Modesto
www.fiscalinicheese.com
For Future MVPs
Steph Curry 3 Toddler ShoeStarting at $50
Nineteen85
2329 Claribel Rd., Riverbank
For the Young and Young at Heart
Oakies Signature HatStarting at $18.50
Oakies Board Shop
1275 E. F St., Oakdale
For Young Environmentalists
Green Toys
California-made, 100% recycled, eco-friendly pre-school toys that inspire creative play
Starting at $8.99
Murphys Village Toy Store
402 Main St., Suite D, Murphys
For the wine enthusiast
Sub-zero Built-in Wine Captain$3,919
Direct Appliance
2424 McHenry Ave., Modesto