With a trend of farm to table many people want to eat locally grown food and that supports local farmers, local business and the local economy. This trend has flowed over to farm to bottle and farm to brewery. There are many states that have seen a rise in local breweries and according to statista.com California had the most craft breweries in 2019 in the country with 907 throughout the Golden State. 
The mass production of hops comes from the Pacific Northwest in Washington and Oregon. This is where most breweries in California get their hops. But a new local cooperative Ca Hop Co-Op President Tommy Bell of Atomic Hops, Vice President Zack Reinstein of Thomsen Hops, and Secretary Art Prudhel of Atomic Hops want to change that. California at one time had hop farms and in Pleasanton they even named a road after a hop farm that was once there called Hopyard Road. 
They are in the beginning stages of the co-op but have been planning on the creation for a couple years.  
"It is a collective effort," said Bell. "We are selling each others' hops. This is a grassroots project that is a collective thing. We are sharing ideas and helping each other. We can try to share equipment if needed to help everybody grow. It is not about one person succeeding, it is we all succeed." 
Reinstein explained that there are economic advantages as well, as the business people share expertise, aiding each other in the pursuit of their common goal. At the heart of it all, he added, is bringing the focus to the 209. 
"We are hoping for local people instead of going up north and I am not dissing up north but to have a local product," stated Reinstein, "local breweries are pushing that it is local beer because it is in Tracy or Lodi but the product is not completely local. We are trying to create a true local beer and be able to have everybody use our product grown here." 
Thomsen Farms has been around since the early 1950s and began in Pleasanton with 50 acres. Reinstein's grandfather traded the 50 acres for 300 acres in Tracy. They farmed tomatoes, almonds, and wheat and in 2019 Reinstein ripped up the almond orchard and decided to try his farming hand at hops.  
"I am trying to bring hops back to California and give all these breweries a local product that they can purchase," noted Reinstein. "Hops originally grew in California back in the late 1800s and early 1900s. We are trying to do something new. It is great eating almonds and having tomato soup but we need something to wash those down with so we wanted to put in some hops for some beer." 
There are 16 acres of hop in Tracy that Reinstein has planted with nine different varieties so that he can determine which ones grow the best in his soil on his farm.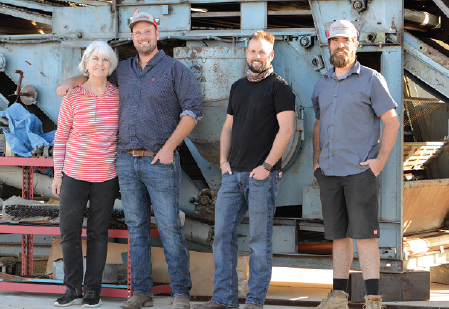 Atomic Hops was established after Bell put his construction skills together with Prudhel's agricultural background and they have been in existence for about three years. They currently offer a few different varieties of hops like Chinook, Cascade, Mt. Hood, and Nugget along with plantings of new varieties.  
"Our intent was to open a facility and do all the processing to ease the burden of debt to the people that wanted to grow past us," remarked Bell. "So with the trellis systems required for hops, it is a large expense. You have poles, cabling, installation; it is a large expense. When you are doubling, quadrupling, or tripling the cost to get some processing to do that made it unfeasible for people." 
Along the way Bell and Prudhel crossed paths with Reinstein and with the same ideology and mind frame of banding together with other hop farmers and creating a co-op to bring hops back to California, the dream became a reality.  
"So we are taking our co-op which is the California Hop Co-Op and we have a centralized processing facility in the northern part of San Joaquin County and Zack is on the southern half of the 209 and we can try to facilitate anyone in the entire 209 area that wants to possibly grow hops," expressed Bell. 
The weather and temperatures as in many farming operations plays a factor in the growing of hops. They have planted a three-acre site that has 25 different varieties which they will closely monitor and test to see what grows best. They have partnered with Cal Poly to test some of their varieties and know what will grow in the California climate and what does not. They have also united with a few other farmers from around the state to share information.  
"Like Zack said, we are doing this because of the local craft brewing market," added Bell. "We have more breweries in any state in the union and we have the least amount of hops growing. There is a void that we need to fix." 
With 50 acres that they have established within the past two years they are far from the beginning when they only had a few varieties to offer local breweries. There are many breweries in the 209 and the farmers with Ca Hop Co-Op want to be a part of their craft creations.  
"This is not a fly by night operation to where we don't know what is going on," noted Bell. "We are local and amazing. We have the most premium hops in California. We have the tests to prove it." 
Growing hops is no easy task and the farmers with the Ca Hop Co-Op are putting their all into it, focusing on quality and consistency.  
The hops are green when picked and as the guys stated "super airy." Some of the varieties have different aromas like grapefruit, tangerine and pepper, or lemon. They will be 'waking up' in March and should be ready for harvest in August or September. 
The process is elaborate, the equipment is crucial, and the man hours are extensive but the passion from the farmers is even greater. They are just getting started. They will have a website, logo and more information coming soon.  
"We are getting our name out there," relayed Bell. "We didn't just take it to the next level with quality but we have the full service to go from start to finish for every brewer in the state of California." 
For more information, visit atomichops.com or call 209-406-9391.