The creative minds of Dying Breed Brewing owners Josh Malcolm, Joe Novotny, and Dan Wood each bring something special to the brewery including a variety of craft beers that will delight even the toughest beer snobs. 
The tap room opened in mid-May and is rustic and welcoming. There are 14 taps that change on a regular basis but customer faves will always be on tap. Although they have only been open a few months, there are several beers that have become customer favorites like the El Macho, which is a Mexican Lager and a top seller, a double IPA called the Caster 8, Made in the IPA, and Rollin ze Hayz. All the beers have crafty names (pun intended) and some even have a story behind their names.
The Hayz is a mild IPA with a hint of pineapple and the Caster 8 is a double IPA that is a bit stronger with 8.1 percent ABV (alcohol by volume). The Kolsch Revolver is a German style beer that is an easy, lighter option that Wood calls "a lawn mowing beer." For a real crisp, clean, hoppy taste Made in the IPA may be a preferred choice.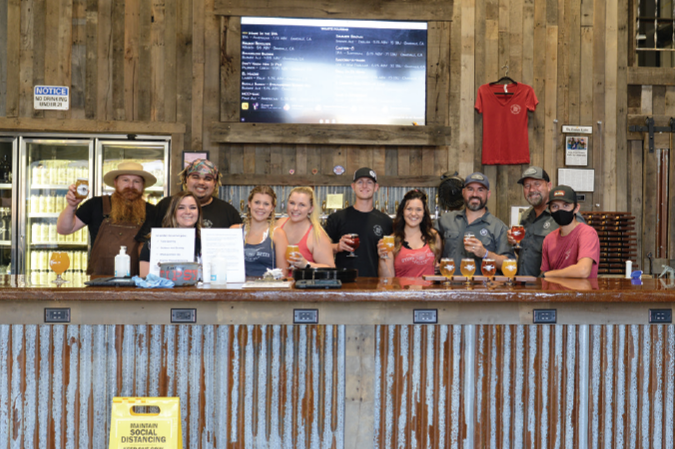 Although Willy Tea has only been beertending for a few months he has always been fond of beer and music. He has been a musician for the past 20 years so combining the two at Dying Breed has been exceptional. 
"I am pouring beer and people are smiling and drinking beer," said Tea about beertending. "That is my favorite part and I enjoy beer. The brewers and the owners are very kind people and their intentions are beautiful. It just goes to show through the beer and everything. People have a great time here and now with the stage (for outdoor performances) this is going to be a pretty exciting place."
Despite the challenges from the coronavirus, Dying Breed was able to open with a very successful drive-thru concert and beer pick up in March. In less than two hours they were sold out of their growlers on opening day. Since then they have adjusted to the rules and regulations with sanitizing, masks, social distancing and tables six feet apart on their outdoor patio. 
"At first there was a concern for safety," stated Novotny. "So, we had to be extra vigilant with cleaning and take extra steps and extra precautions to make our customers feel comfortable. One of the things that has been great for us is when folks come out here and see how big our outdoor space is and the space that we have in between tables, they feel comfortable."
The custom stage in the outdoor area gives musicians a platform to showcase their talents and entertain crowds that are ready for live music. When things open up fully, they have plans to have live music on a regular basis along with some other entertaining ideas that they are keeping under wraps at this time. 
Wood is the brew master and has been working on some special craft beers for the fall with a traditional Oktoberfest brew that will be released in October. They will also offer a few different German style beers, stouts, porters, and celebration type beers. 
"We are staying positive so hopefully things will ease up a little bit," noted Novotny about the winter. "We will have a plan so that we can continue to serve patrons even if we have to give out panchos or whatever. We didn't know how important it would be in our plan to have an outdoor patio. This has truly been pretty awesome." 
DYING BREED BREWING
963 Shepard Ct Suite B, 
Oakdale, CA 95361
Phone: (209) 322-3526
www.dyingbreedbrewing.com
Hours:
Wednesday & Thursday 3–9 PM
Friday 3–10 PM
Saturday 12–10 PM
Sunday 12–8 PM
Monday & Tuesday Closed