The word "diet" can be a scary one. Depriving myself of different foods I love has never been at the top of my to-do list, but reaching and maintaining a healthy weight for myself has. Throughout the years I've tried it all — every fad diet you can think of, from Whole 30 to paleo to just plain clean eating, but in my 25 years of life I've never found the success that I've found this past year with the keto diet. 
In June 2018 I weighed 187 pounds, which is just a little too high for a girl with a 5-foot, 4-inch frame. It wasn't the highest weight I had ever reached, but when I saw photos of myself and thought about the way my body and mind felt at that size, I knew I needed to make a change. My weight has always fluctuated due to the different diets I've tried, but I was never able to stick to one specific way of eating and usually found myself backsliding all the way back to square one. So, last year when I saw people on the keto diet, eating bacon, butter, cheese and plenty of other things I love, I knew I had to give it a try. 
Today when I step on the scale, the number 140 looks back at me. While that weight looks great statistically, it's not just about the numbers. I feel great mentally and physically, and I have keto to thank for changing the way I've looked at food over the past year. 
So, what is the keto diet? In essence, it's a very low-carb, high fat diet that involves drastically reducing carbohydrate intake and replacing it with fat, putting the body into a metabolic state called ketosis. When this happens, the body becomes incredibly efficient at burning fat for energy, rather than glucose, and also turns fat into ketones in the liver, which can supply energy for the brain. The diet can also cause massive reductions in blood sugar and insulin levels — and produce rapid weight loss. 
If you're confused, don't worry because I was, too. But I was seeing people on social media by the thousands who had tried this way of eating and found success, so I was determined to join them. I researched for days, watching different videos on YouTube, reading blog posts and following Instagram accounts that gave me ideas on what to expect and how to jump right into the diet.
I quickly learned that I could have no more than 20 grams of carbohydrates in one day (there are about that many carbs in one banana — who knew?) and that fats, like avocado, heavy cream, cheese, nuts and more, are actually good for you. Once I started, I could see why it works. My first meal on the keto diet of scrambled eggs with spinach topped with cheese and bacon kept me full until dinner time, and the results of eating keto after one week had me hooked. 
I felt better, I had more energy and I even lost five pounds during that seven days. 
That was June 2018, and today in June 2019 I'm still going strong, though there have been a few hiccups along the way (no one's perfect). I'm three pounds away from the 50-pounds-lost mark, but it hasn't been easy. 
I've had to utilize the kitchen a lot more than I did in the past, cooking keto meals like creamy Tuscan chicken, bunless bacon burgers and loaded jicama fries with my roommate. My air fryer, and my keto air fryer cookbook, have recently become my best friends. There are some fun things I've taught myself to do, too, when I'm missing carbs, like coating my fish in crushed pork rinds instead of breadcrumbs to make it crispy. 
At restaurants, it's easy to keto-fy your meal. Ask for your sandwich without bread, your burger without a bun or your tacos without a tortilla. Or, you can always get a salad. The changes in my mental and physical wellbeing came when I stopped making excuses and started trying new things.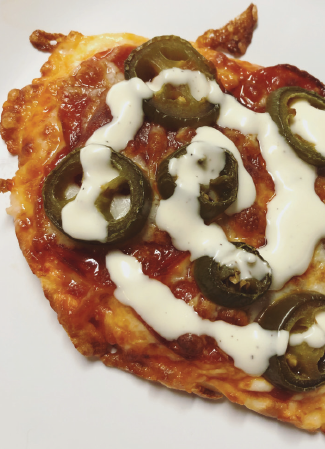 Treats are even possible on keto. Since sugar isn't allowed on the keto diet, us ketonians have to improvise. As a journalist, coffee is my savior. I can drink it black, but sometimes you just need something sweet and luckily there are some "hacks" at Starbucks that allow me to do just that. My typical order is iced coffee with heavy cream, then I add in a couple of pumps of their sugar free syrups like cinnamon dulce or vanilla. Some people do this exact order but instead of coffee they get a flavored tea, which makes for a rich, fruity drink on a hot summer day. 
Luckily for me, I'm not the only one on a keto kick. There are plenty of people throughout the 209 who have taken it upon themselves to not only embrace the Keto lifestyle, but help others attain it as well. Michelle Jones of Modesto started Chells Keto Goodies when she and her husband found success on the Keto diet themselves, losing a combined 90 pounds. Jones is well-known for her Keto-friendly desserts like cheesecake, cupcakes, pound cake and muffins, proudly proclaiming that her products have all the fun of sweets, but with "no sugar rush."
"My slogan is 'no sugar rush' because I felt like everybody wants sugar, but no one wants the side effects of it. It's so hard for us to find a good treat that tastes good and isn't expensive," Jones said. 
Like many who have gone keto, Jones and her husband did so and haven't looked back after noticing the health benefits. 
"My husband was diabetic and had high blood pressure, and just from going keto he's no longer diabetic and no longer has that high blood pressure," she said. "It's really helped my family, and that's what makes it even more special to me because I've seen success."
Chells Keto Goodies accepts orders via Facebook and Instagram (@chells.keto.goodies), and when I started following Jones' sweet treat business on social media, I couldn't believe how good the desserts looked. Instagram has not only given me the opportunity to find amazing entrepreneurs like Jones who make the keto life easier, but also a community of supportive keto dieters who make the experience more enjoyable. 
My keto Instagram account (@ketooosunshine) has allowed me to connect with others who are right in the middle of a journey very similar to mine, and has motivated me to keep a photo journal of all the delicious meals I make, the new clothes I can fit into and even the opportunity to try different keto products I never would have been exposed to before. As I continue to work towards the 137 pounds mark, this community of fellow low-carb, high-fat dieters has become my rock. 
There are a lot of people who have opinions about the keto lifestyle, both positive and negative. My opinion? Everyone is entitled to their own. If the keto diet works for someone and they're experiencing positive results, then live and let live. I get it — eating a diet consisting of mainly protein and fat seems to go against everything we've been taught about the food pyramid, but I urge the naysayers to do some research and maybe even try it out. You might be surprised. 
Keto has changed my life, and this journey, though a roller coaster, has been well-worth taking the buns off of my burgers.